Build Strength Somatic & Mental. Harness Willpower. Embody Wisdom.
Slow down. Allow the body to assimilate new stimuli. Shift the perception.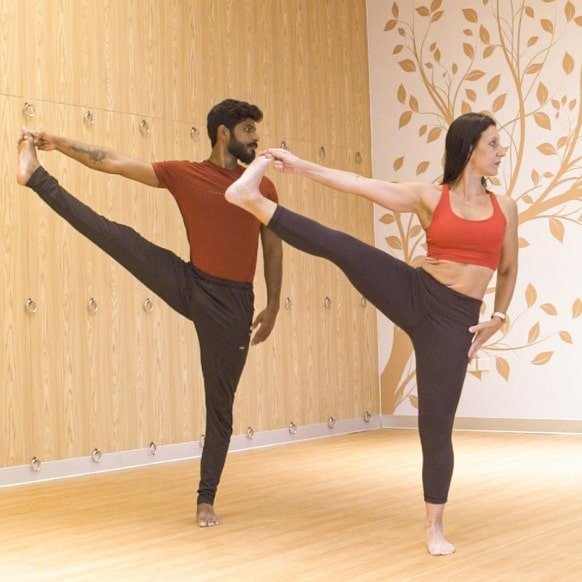 Ashtanga Vinyasa is a vinyasa based practice, which mostly focuses on building the capability & confidence on the asanas included in the Ashtanga style of Yoga. It is in nature an intense practice which caters to the need for support of the students who wish to build the groundwork, develop the technique & experience the elements required so as to advance or perfect their Ashtanga Yoga practice. As such, Ashtanga Vinyasa leverages important aspects like inversions, transitions, jump backs, jump throughs, twistings, backbends & forward bends. This class is ideal for those seeking to build depth in their yoga practice across styles & as well the Ashtanga Yoga primary series & beyond. Suited for consistent practitioners who are keen to advance their practice & learn something new every time.
Hatha Yoga is one of the foundational yogic paths that draws on practices from the Tantric Tradition. The Tantrics believed in the "divinization" of the physical body and its transformation through purification & development of its subtle energies. Hence in Hatha Yoga the physical body is embraced as a means to achieve enlightenment by fostering the physical-spiritual connections, the body-centered practices & the esoteric ones with the aim to direct the "prana" (life force energy) to the "ajna" (crown) chakra. Expect to practice diverse asanas & build resilience by staying in the posture for longer timing, allowing for strength building. Hatha Yoga as a foundational practice is ideal for practitioners of all levels, from those seeking to embark their journey in the world of yoga asanas, to advanced students. With its gentle sequence, this practice helps internalize insight & experiences, through mental assimilation of the bodily movement. Classes are customised accordingly.
Yoga alignment is the backbone of most yoga practices & indispensable in attaining perfection in any flow-based style of yoga. Via the use of props like the wall, blocks & straps, yoga alignment helps build precision, stability & one pointedness along with awareness. The practice goes in depth into understanding & feeling what the correct posture (asana) should be like vs what it usually ends up being when practicing at faster pace. As such, and when practiced with frequency yoga alignment is a key avenue to perfecting one's structural body posture & advancing into any fast paced yoga style, no matter how advanced the asanas. It also helps practitioners build knowledge on which muscles & joints are engaged each time while allowing the time to realise how they feel in each pose & enter within it with mindfulness, presence & attention. Yoga alignment works on both core strength & flexibility across different body segments. It is a must do practice and goes hand in hand with all flows & strength based styles of yoga. Yoga alignement is suited to all levels of students & should be integrated once one builds consistency in their practice. Yoga alignment is a key practice suited to all practitioners irrespective of their proficiency level & the main avenue of gaining deep insight about the anatomy & mechanism of each posture.
Vinyasa Flow is a relatively contemporary style of yoga practice, where the emphasis is placed in aligning the movement with the breath. That said, each transition from one posture to the other is performed through conscious inhalation to enter into the asana & conscious exhalation to exit it. Synchronisation of transitioning through the sequence with breath becomes core element in the Vinyasa practice which is fluid & seamless in nature. The tempo can vary, and the variations of the asanas can be numerous, each one offering a different learning experience for the practitioners. The variable nature of Vinyasa Yoga helps to develop a more balanced body as well as prevent repetitive motion comfort zone build up, which can occur if one always does the same movements every day. As a philosophy, Vinyasa recognizes the temporary nature of things. We enter into a posture, stay there for a while and then leave. Put all this together and Vinyasa, is a breath initiated practice, that connects every action of our life with the intention of moving towards what is sacred, or most important to us. Vinyasa flow is an ideal "rate of passage" for systematic students who wish to advance their practice, as well as intermediate & advanced practitioners who aim to perfect their craft.
Iyengar Yoga is a comparatively modern style of Yoga, named after B.K.S. Iyengar, a student of Krishnamarya. This practice involves the performance of a sequence of asanas (different theme each time), where the major focus falls on precision, attention to detail & correct body alignment. An in-depth practice, Iyengar is slow or static in pace and leverages the use of props like ropes, blocks, belts, blankets, chairs etc as aids to align the body properly. The poses are held for a long period of time giving the opportunity to practitioners to create affinity with the posture & challenge the comfort zone of any perceived limitation. During the holding of the posture the muscles are relaxed & lengthened, creating an expansive effect as well as a sense of increased awareness & concentration at a mental level. During the class practitioners are also exposed to information regarding the purpose of the posture they are performing, what is correct & what is not, why are they doing it etc – make in it thus very enlightening in terms of understanding what are the benefits of the exercise. Iyengar yoga is indispensable to correcting one's structural alignment of the body beyond the yoga practice & into every day life. Iyengar is a must do for practitioners of every age & level who are keen to attain healthy body posture, alignment, stability & flexibility.
Aerial yoga is a contemporary fitness based yoga system that is based on the principle of counteracting gravity by practicing traditional yoga poses suspended mid air with the help of hammocks. A feel good & fun practice, Aerial Yoga is free of age or level boundaries or capability level. The classes vary from aerial flows to stretches & inversions. Aerial yoga triggers an unparalleled sensation while it enhances body core strength, stretching, mobility & balance in an unconventional manner. Gentle on the joints & ideal for practitioners with bodily sensitivities aerial yoga classes at Eclipse invite practitioners to loosen up & delve into a one of a kind experience.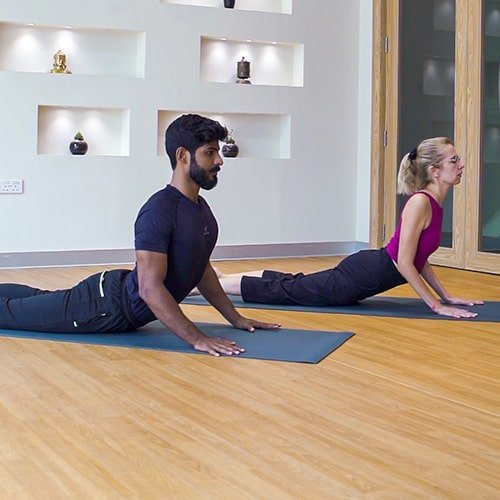 Based on passive stretching, Restorative Yoga is a slow based, deeply relaxing practice, which encourages stillness & holding of the posture for long time intervals. The practice uses props to enable creating comfort in the posture like yoga blocks, blankets & bolsters avoiding thus any stress on the muscles due to effort. Meditative & healing in its nature, the practice brings about therapeutic benefits of releasing tension, anxiety & pain or stiffness caused by contemporary lifestyle.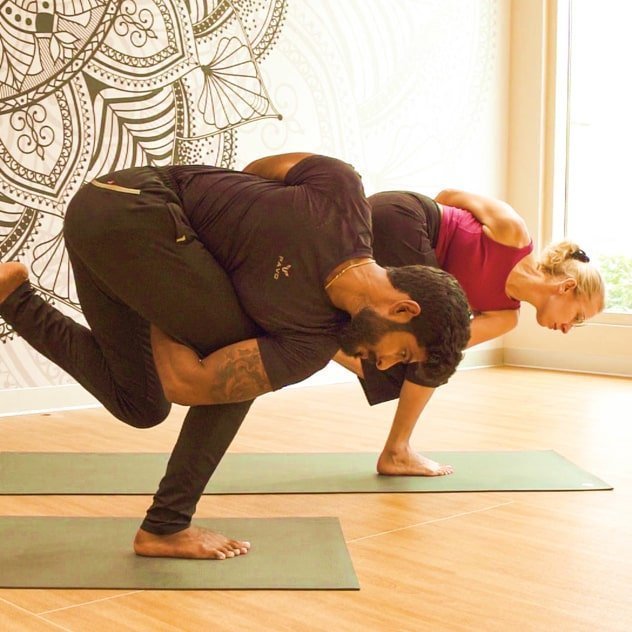 Yoga Flow Mixed Style is the perfect blend of a proper warm up across all body parts, which progressively gives place to a mixed style yoga practice inspired by the traditional hatha & ashtanga asana practice. Drawing on variations of Surya Namaskara (Sun Salutations) & focusing on flexibility, strength & the flow of breathing, this is a feel good class open to all levels. The breath plays a key role here, through the careful synchronization of fast breathing with fast movements & slow breathing with slow movements. The class experiments with various postures (asanas) & their variations, opening the realm of discovery & bringing everyone's focus to the present moment.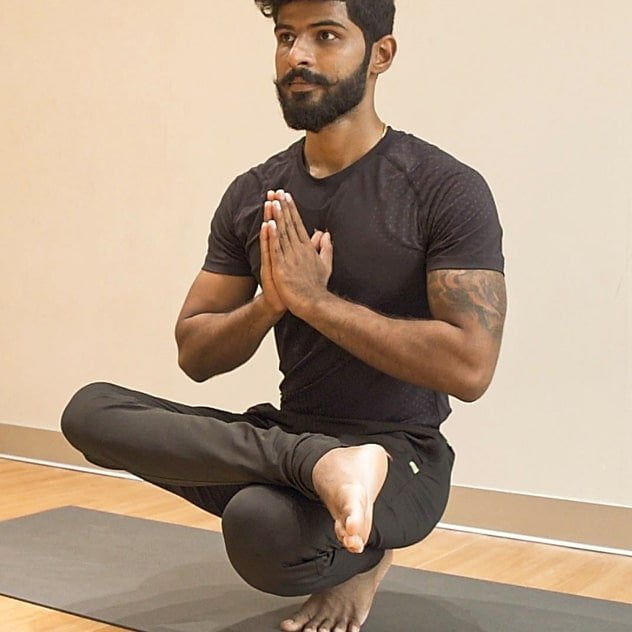 Yoga Balance is a must-do foundational practice focusing on building the foreground to mastering balancing yoga asanas & movements. Following the warm up stage, the session effortlessly progresses to asanas focusing on enhancing core strength, flexibility & body balance. Controlled breathing targets to increasing concentration while stretching works on re-establishing the mind/body awareness. With the heightened focus in place, the practice harmoniously takes the practitioners to the balancing asanas part, which may involve arm, leg or head balancing groups of exercises. This practice is tailored to the level of the students each time & it is ideal for the ones seeking to improve their existing practice, build confidence with body/mind balance overall & enhance their skills in groups of asanas that are traditionally considered challenging.
Mandala Vinyasa is a practice that works 360 around the mat, leveraging the 4 elements (AIR, FIRE, WATER AND EARTH) using the Ancient Mayan Calendar, It focuses on a particular area of the body and the correlating chakra. On a physical level, we flow and move with the breath, working on that particular target area: 1) Air = Backbends, opening up the shoulders and quads. On an energy level the practice activates the Anahata Chakra, which relates to our social identity and self love, finding space in our hearts. 2) Fire = Spinal twists, glutei and IT band. From an energy perspective the point of activation here is the Manipura Chakra, our solar plexus, related with our willpower and ego identity. 3) Water = hips and groin. Energetically the focus is to activate the Svadhisthana, the Sacral Chakra, our source of movement and connection that relates to our reproductive system. 4) Earth = Hamstring. Energetically the activation point is the Muladhara, the Root Chakra, which connects to grounding. The practice starts and ends with a short Yin session, so we prepare to "close" the area of the body that we will be working on, encompassing opposite elements to help balance our bodies and energy. According to with the Mayan Calendar, each day is related with a specific element, and every practice can be built based on the element and specific sequences. The class is suited to all levels of practitioners.
Power Vinyasa is a fitness-based vinyasa practice. An offshoot of Ashtanga Yoga, it has many of the same qualities and benefits, including building internal heat, increased stamina, strength, and flexibility, as well as stress reduction. The sequence differs each time, leaving room for ample improvisation & experimentation, while students synchronize their breath with their movement. The original Power Yoga was developed and founded by Beryl Bender Birch, but is now a term used to describe many vigorous vinyasa styles. This practice is intense in nature & offers room for exploration & advancement of students who are already into consistent practice of yoga or other body discipline.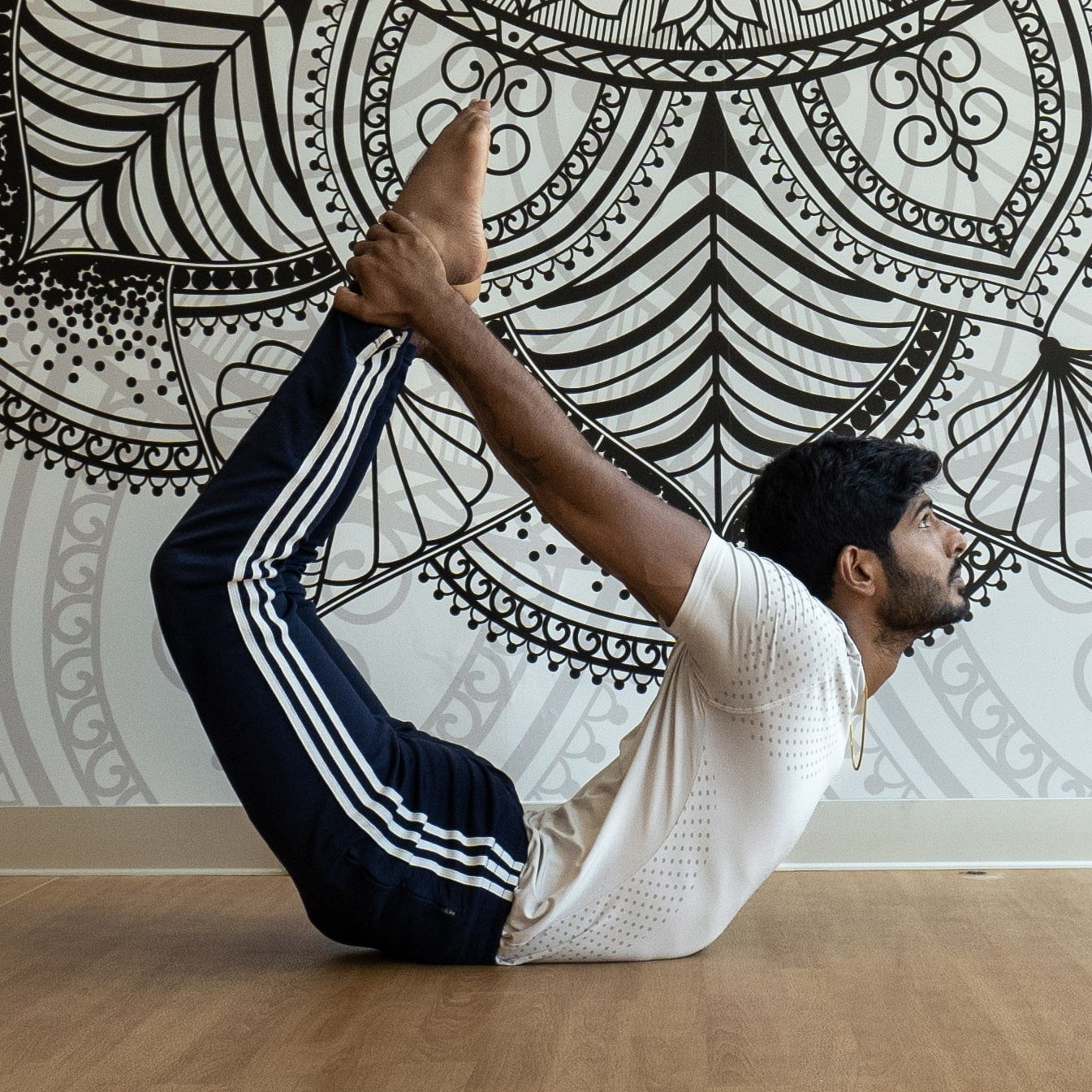 Hatha Vinyasa is a slightly upbeat version of Hatha Flow, faster & more dynamic in tempo which places focus on the harmonious synchronisation of the movement with the breath through its transitions. The practice explores on occasions slightly more advanced asanas than Hatha Yoga or Hatha Flow & works throughout its duration on fostering muscle strength, asana capability building & flexibility simultaneously. Fluid & smooth, Hatha Vinyasa draws on sequences across the board of different asana groups & it is an ideal practice to start experimenting with more intermediate practices. Classes are customised accordingly.
A unique fusion of vinyasa flow & yin yoga practice. This class brings together the best of two worlds: it builds up the heat in our body with standing energizing sequences that activate our muscles and mind. It then on transitions to a different state with 20 min of long yin poses to hold, meditate and stretch in a passive way. This practice reflects our way of living in different speeds and forms. By practicing we cultivate the ability to slow down-like in yin postures- any time during our day. Is a great way to challenge ourselves, especially our versatility if we belong in one of the two styles. An excellent chance to develop our skills and master different aspects of our personality.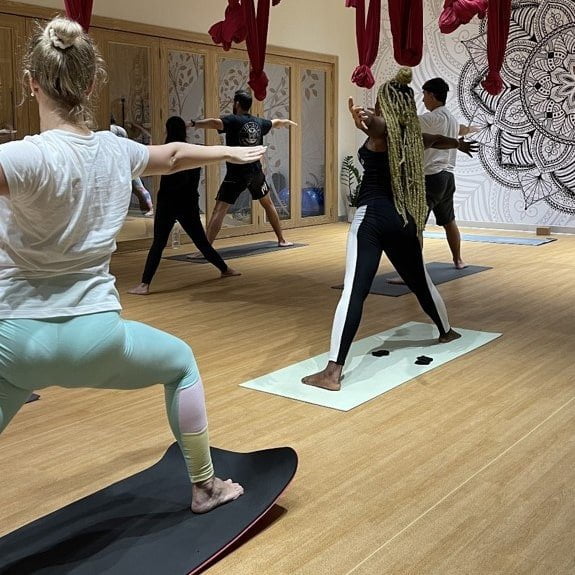 Hatha Flow is a foundational practice, which draws on the principles of Hatha Yoga, yet it is faster in pace & performed in a more fluid & uninterrupted manner. Expect to practice diverse postures (asanas) & transition through them in a smooth yet more dynamic manner than in Hatha Yoga. The counting & staying in the posture is slightly faster, yet the pace allows for a combination of adequate internalisation of the posture combined with the discipline of an upbeat pace that triggers movement. With its gentle sequence, this practice is suited to practitioners of all levels, including newcomers in the yogic practice. Classes are customised accordingly.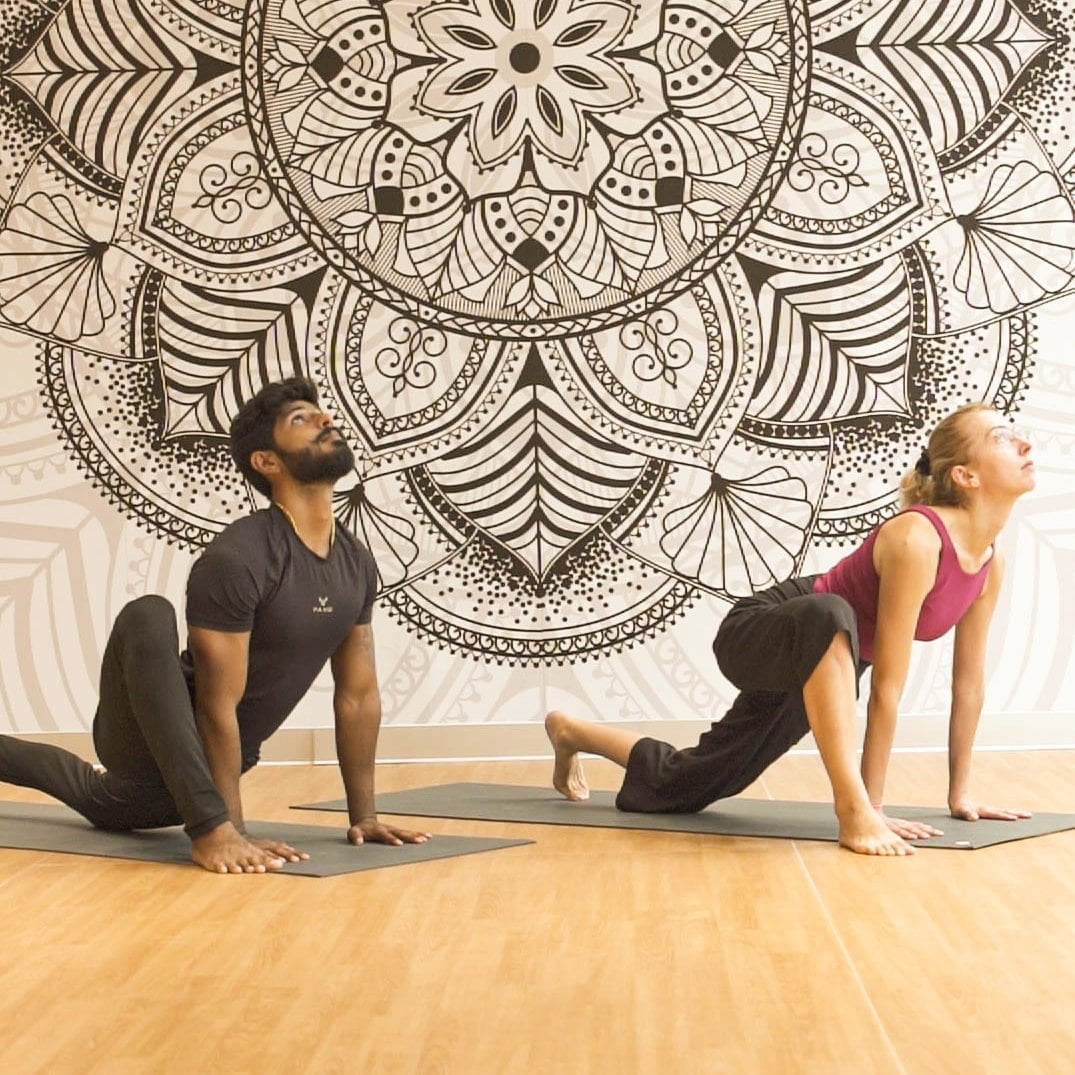 Deep Muscle Stretching is an active stretching practice which encompasses the muscles of the hip, waist, back, thighs, hamstrings and the overall body. The class begins with warm up movements to build heat and prepare the body for asanas which are held for a longer duration to keep the muscles flexible, strong and healthy and increase the blood flow inside the body. When practiced with consistency Deep Muscle Stretching is a stepping stone to building flexibility, mobility & releasing discomfort built by long sitting hours & non-active lifestyle.
Rocket Yoga is an Ashtanga Yoga System practice based on breath, bandha and drishti, but it can be deeper and more inclusive than the traditional Ashtanga Yoga practice itself. Larry Schultz, the creator of the Rocket Yoga system, combined first, second and third series of Ashtanga Yoga and sequenced the poses around the joints of the body. The Rocket sequence encourages play and offers modifications of traditional poses. The Rocket practice encourages a smooth unbroken rhythm of breath and movement, and as it may appear to be a very physical practice it is actually leading us on a path of self-realization. As a fast paced dynamic flow, it features intensity, heat & resilience by engaging in a series of standing & seated poses, twists, bends & inversions. The Rocket, as the name indicates, gets you there faster. The Rocket sequences leave you with the feeling of being stronger, lighter and more flexible. Sweating is encouraged to purify and reshape your body. Rocket has different sequences ( Rocket 1, 2 and 3) and they can be adapted for different levels. Rocket Yoga at Eclipse inspires students to experiment with the next step of their practice & enhance bodily confidence & control while honing their mental & emotional resilience.
A feel good practice to start the day, the Morning Stretch class awakens our body through a series of stretch based asanas that include hip openers, side stretches, forward bends, back bends, splits & twistings. The session includes both active & passive stretching, and the holding of the postures is relatively long, ideal to activate the body during the morning hours & set the tone for the rest of the day. The pace of the practice is rather slow, make in it ideal for all levels of practitioners and instrumental in cultivating mindfulness & focus as students internalise the effects of the practice.
Pranayama, Stretch & Mobility
Pranayama Stretch & Mobility is an intermediate practice whose focus is on performing postures that improve the flexibility, range of motion & stretching ability of different muscle groups. Drawing on the Hatha school of Yoga, the practice starts with a warm up & progressively unfolds to performing asanas that have a stretching effect, including side stretches, forward bends, hip openers, back bends & twistings. The pace alternates & it can involve faster transitions followed by longer holding of the postures. The intensity of the practice is tailored & includes variations of the asanas making it inclusive for all levels of students. The physical practice gives way to conscious breathing exercises rooted to the yogic tradition (Pranayama), toward the last 15 minutes of the class, allowing the students to connect with themselves, internalise the effects of the physical exercise & get centered.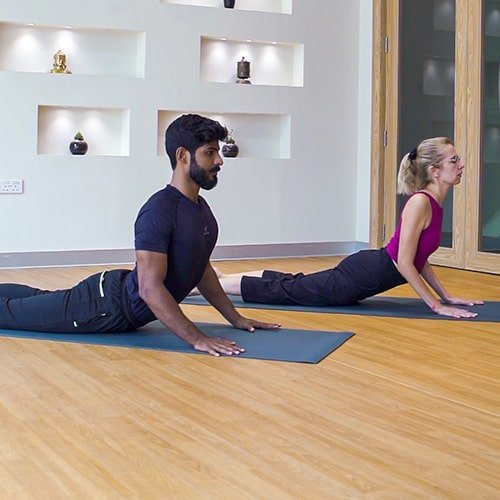 Yin Yoga is a slow paced practice, which works on stretching the deep connective tissues (ligaments, fascia) by remaining into a posture for length of time, which on occasions can be up to 15 minutes. The practice encourages creating comfort in the posture through concentration on the breath and as such has a deep meditative effect. Expect to have a gentle music background in the class & surrender into the posture and the thoughts that it invokes. Yin Yoga is inspired by the Chinese tradition and apart from the physical effect it is beneficial in allowing the Qi Energy to flow through the body uninterruptedly by dissolving blockages. This practice is instrumental to hone the capability of "slowing down" & integral to counterbalancing intense physical practices or simply to enhance mental & bodily relaxation. The sessions are ideal for all level practitioners & a great means to enhance mental clarity while restoring physical vitality.
Kids Yoga is designed to enhance children's' mental energy to promote their inherent creativity. Yoga is not just for adults! In fact, it can give children very important life skills that can help them succeed in the world. Sowing the seed of Yoga at an early age will help children to grow as strong, balanced, and responsible individuals capable of facing the challenges of life. Discipline & consistency are at the center stage of qualities that Yoga cultivates in children. Through Yoga children are enabled to become aware of their strengths, experiment and bring out their yet undiscovered potential. Education imparted during childhood will form a strong foundation for the rest of one's life & this includes Yoga education and training. Children with their natural instincts are able to understand and adapt to Yoga much quickly. Yoga entails numerous benefits for kids: Develop body awareness Learn how to use their bodies in a healthy way Manage stress through breathing, awareness, meditation and healthy movement Build concentration Increase their confidence and positive self-image Feel part of a healthy, non-competitive group Have an alternative to tuning out through constant attachment to electronic devices
As the name suggests Therapeutic Yoga practice is holistic in nature & focused on healing, restoring, alleviating & amending body, mind and emotional challenges or limitations. Slow paced, well supported asanas work to enhance the flexibility, mobility & muscle strength; conscious breathing accompanies the practice cultivating presence & centeredness. Therapeutic Yoga is the answer in numerous aspects; it promotes and improves respiratory and cardiovascular function, reduces stress, anxiety, depression and chronic pain, improves sleep patterns, and increases overall well-being and quality of life. Suited for students that require special attention in some physical aspect due to prior injury, chronic condition or other physical or emotional sensitivity.
Pregnancy (pre-natal) yoga classes bring the ancient science of yoga to support the mother though her pregnancy using birth breathing tools along with yoga postures and laboring coping techniques. These sessions are designed to maintain and build strength in pregnancy, preparing for labor and birth, and relieving pregnancy-associated discomfort. Mental and emotional preparation is key through yogic practices and community support. Recommended for women from second trimester onwards with the doctors' clearance. Suitable for all levels of students including the ones with no prior exposure to yoga. Benefits of yoga during pregnancy: -Breathing well promoting hormonal balances. -Alleviate minor discomforts such as heartburn, pain in hip joints, ribs, crams in legs and headaches. -Improve blood circulation in the muscles and adequate supply for the baby to grow healthy. -Helps in combat fatigue during pregnancy. If muscles are stiff and move is restricted, the flow of energy is blocked. Breathing will will make you feel fresh and invigorated. -The yogic positions will naturally extend into labor, promoting ease and freedom of movement. -Regular yoga practice will prepare for speedy recovery and return to normal after birth. -Improve quality of sleep and deep relaxation.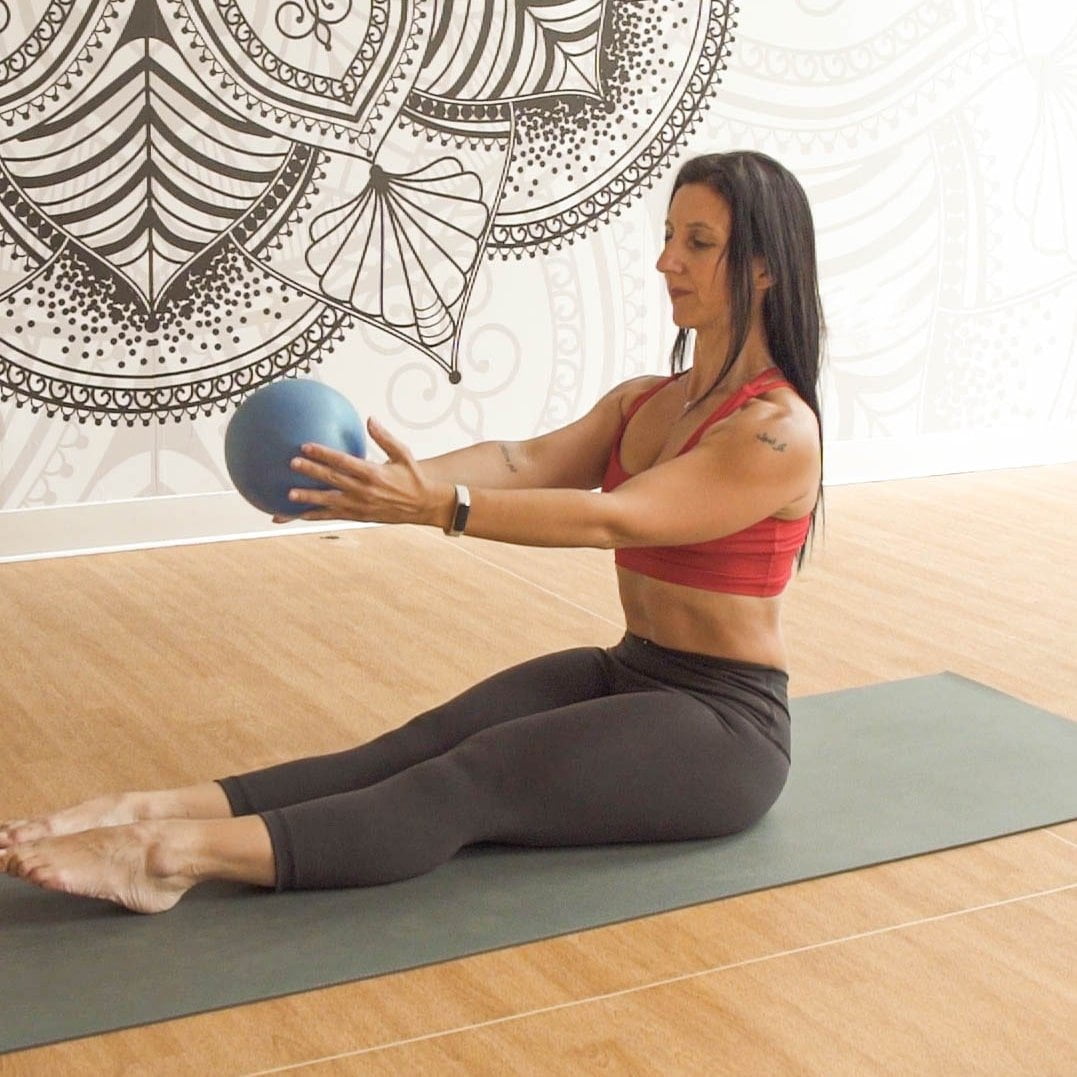 Pilates is a holistic & dynamic practice developed by Joseph Pilates in the early 1900s. It is a method that he developed for recovery & body therapy. It combines mindful breath with body awareness & borrows movements from classical dance, yoga & fitness. Pilates is performed on the mat or with specific equipment (props), like reformer and cadillac. The exercises included in Pilates Mat & Props class can vary, but there is always a focus on the core or "powerhouse", as it is essential to maintain health and prevent injury especially around the lower back area. The movements become progressively more challenging & complex as one practices over time. All levels of practitioners can join. Pilates' emphasis on the body/mind connection, renders it an optimum practice to build flexibility, strength, coordination & body awareness. It is also ideal for calorie – burning, tones the body, supports recovery, & enhances focus & centeredness.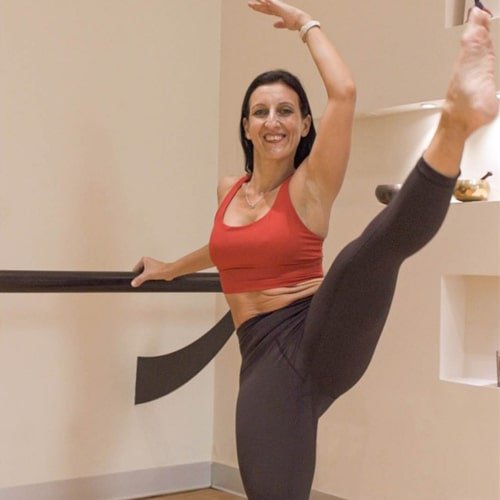 Barre Core Strength & Movement
Barre – Core Strength & Movement practice is a work out technique inspired by elements of Yoga, Pilates & Ballet. It focuses on low-impact, high-intensity movements designed to strengthen our body, especially on parts that are typically challenging to work out on, while increasing the over all agility & flexibility. During the session, practitioners make use of the barre, but also leverage one's own body weight along with exercise balls. Barre – Core Strength & Movement sessions are gentle on joints & they place special attention on improving the posture. In a playful spirit, expect to be moving to some upbeat tunes and follow some simple choreography or rhythmic patterns. The Barre – Core Strength & Movement sessions are suited to practitioners of all levels & customised to embrace students of diverse physical skill set.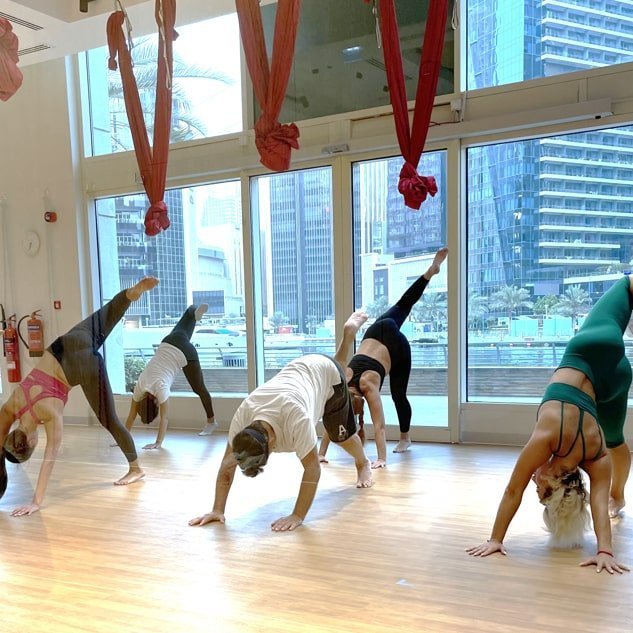 Mobility & Animal Flow is a system of ground based movement practices specifically designed to enhance fitness by improving movement, reflexes, power, strength, flexibility, agility & physical as well as mental coordination for practitioners & wellness enthusiasts at various levels. Mobility & Animal Flow includes a range of movements and combinations that are grouped into categories called the "Six Components." Each Component is designed to elicit specific results. The Six Components can be mixed and matched in many ways, allowing to incorporate one, some, or all of them in the workouts. These include: Wrist Mobilisations Activations Form Specific Stretches Traveling Forms Switches & Transitions Flows Expect a playful fun class full of movement & enthusiasm!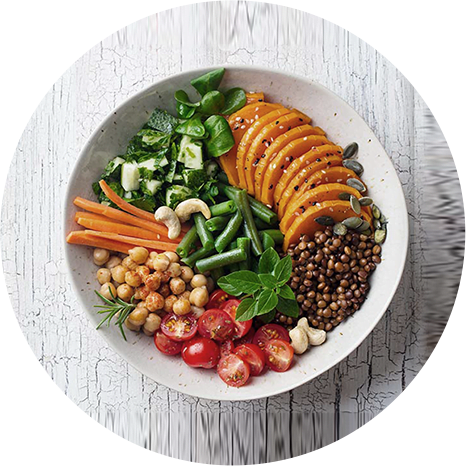 Shirodhara Treatment Shirodhara is a classic Ayurvedic treatment; it is the practice of slowly & steadily dripping oil on the forehead, to attain a relaxed state of awareness restoring thus psychosomatic balance. Shirodhara benefits: reduces fatigue, boosts blood circulation, improves headaches & combats insomnia.   Kizhi Kizhi is an Ayurvedic pain relief treatment performed through the application of warm poultices filled with herbal oils, powders or concoctions massaged over the body. Kizhi Benefits: Heals joint/ muscle pain & stiffness, ameliorates sport injuries &  corrects morbidity due to Vata and Pitta doshas.   Abhyangam Abhyangam is the most popular treatment in Ayurveda, it is a warm-oil-based full body massage. The oil is the central component of this practice, which combined with massage strokes promotes overall health & wellness. Benefits: stimulates internal organs, reduces muscle stiffness, nourishes the skin, brings about anti-aging effects.   Pizhichil Pizhichil is a detox & rejuvenation treatment which involves a full body warm oil "bath" followed by a gentle, nourishing, reinvigorating massage. The practice induces profound perspiration eliminating toxins from the body. Benefits: Relieves joint & back aches, revives human body's natural healing capabilities.   Greeva Vasti Greeva Vast is a herbal or oil neck pain & spine treatment. It alleviates neck & upper back conditions like cervical spondylitis, stiff neck, pain due to over strain. Benefits: Relieves the burden of stress & congestion in the nerves, bones & muscles of neck & shoulders.   Janu Vasti Janu Vasti is a specialized Ayurvedic treatment that involves pooling specialized oil in compartments created around the knee joint or the site of the affected area. Benefits: lubricates joints, relieves pains, sprains, ligament tears, prevents degenerative diseases, improves mobility.
Relieving Sports Massage Relieving Sports Massage is a deep tissue treatment that activates the parasympathetic system & removes the ill effects of stress, soothes away pain from intense work-out & restores agility. Benefits: reduces muscle tension & hypertonicity, improves soft tissue function, decreases muscle fatigue.   Indian Head Massage Indian head massage uses acupressure to release tension in the muscles & joints of the head, face, neck and shoulders. The experience is deeply calming and relaxing, leaving a feeling of increased energy, concentration and revitalisation. Benefits: relieves fatigue, insomnia, headaches & sinusitis.   Foot Massage The foot massage involves working on the feet by activating pressure points to promote relaxation and health. Benefits: enhances the sense of balance & wellbeing, stimulates the muscles, improves circulation, lessens stiffness and tension, and eliminates pain.