10-DAY YOGA IMMERSION, AYURVEDA & HIMALAYAS TREKKING RETREAT, SHRI KALYANIKA ASHRAM, GRAND HIMALAYAS, INDIA
What Makes This Retreat Special
Conducted in a rare, mystical setting in the Himalayas, this is a once-in-a-lifetime experience allowing you to truly dive deep and experience the spirit of yoga in its entirety.
From the magnificence of the location to the vibrations of the Ashram's chants, this is a soulful, transcendental experience of self-development, empowerment, and realization.
During our hike in the magical Himalayas, we will stay in a cottage-style basecamp perched on a hilltop and surrounded by thick oak forest. Participants will wake up by the sounds of nature's wildlife and fill their senses by the grandeur and breathtaking views of the landscape.
The program starts at 7.00 am on April 5th, 2024.
Participants need to plan their international travel in a way that they catch the one and only daily flight from Indira Gandhi International Airport (DEL) in New Delhi to Pantnagar Airport (PGH) at 10.30 am in the morning of April 4th (all details are listed in the Travel Help section).
You can see our detail program for every retreat day here:
At the Ashram, 3 sattvic vegetarian meals per day, made from local products and dairy (coming from the Ashram's own cows) are included.
During our trekking, we will enjoy Himalayan cuisine at the basecamp.
As the Head of Insight at Eclipse, Swami Vishweshwaranand is in charge of conducting all mindfulness & meditation practices.
He is an expert in the ancient wisdom of Yoga & the Eastern Traditions & their translation into modern life practices.
Born in a Brahmin family of scholars, Swami Vishweshwaranand left his home at the young age of 7 years & started his spiritual journey under the benign guidance of Param Tapaswi Baba Shri Kalyan Das Ji of Amarkantak. On the banks of Narmada, he received the divine Diksha of Shri Krishna and got the esoteric Vidya of Vedas & Gita in a mystic manner.
He traveled most of India with his master at a very young age and got versed in various Indian Vedic scriptures. At the age of 10, he was sent to Nainital for his elementary education & later on received his university education from Pune & Varanasi.
Due to his deep understanding of life and dedication, this yogi was bestowed upon him in his early days and he then started teaching Dhyan Praveshika - entrance into a meditative state, a technique based on the Pranava Naad Sadhna of Udasin tradition.
He was also fascinated by the mystical aspects of philosophy and therefore was trained under the mystic Kashmir Shaivite Pt. Kamlakar Mishra of Varanasi. As a result, Swami Vishweshwaranand started teaching at Shri Kalyanika Himalaya Devasthanam & has been a key leader in various institutions of the Matha, nestled in the Himalayas.
Known as a natural scholar, the Swami has edited various journals & books; he has played a vital role in structuring ancient texts.
He is passionate about seeing people connect with their true selves and is driven to put all his energy to support others into thriving in their life's journey.
+ Show More
Devadatta comes from Pune, India & started practicing Yoga when he was only 13 years old under the guidance of Chandrakant Pangare the Captain and Coach of the Indian Yoga Team and 8 times International Yoga Gold Medallist.
With his natural inclination to the practice, his love and dedication to the yogic path, Devadatta started participating in yoga conferences and competitions by the time he was 14 years old across India and abroad; along the way he won 55 medals out of which 9 in international Yogasana competitions, in Korea, Argentina and Indonesia.
Devadatta pursued his education on a Bachelor's degree in Yogashastra and earned his degree from Sant Gadge Baba Amravati University, and formalized his 14-year-old teaching experience with his academic qualifications.
Devadatta continued his career in Vietnam, where he taught classes on all styles of Yoga, with emphasis on intermediate and advanced practices, including classes with a special focus on the purposeful use of props.
At Eclipse, Devadatta reveals the depth of his knowledge and experience across different styles that range from Hatha and Alignment all the way to Advanced Flows and Restorative practices.
His passion and experience of yoga in its entirety is reflected in the manner he engages with his students, his attention to detail and his ever-positive energy.
+ Show More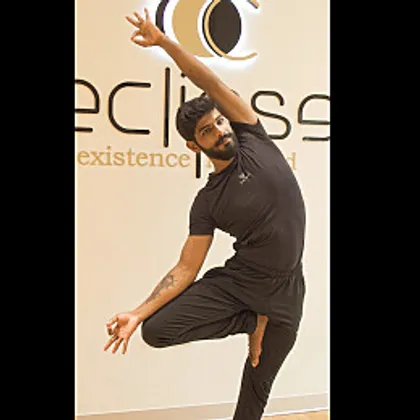 Veronica, a traveler by nature, was born in Italy, lived in the UK, and landed to Dubai a year ago. Being a dancer since her childhood years, she fell in love with dynamic movement early on in life. She continued her practice alongside her academics in Communication Science & International Relations in Milan. Progressively Veronica developed a profound interest in spiritual matters & holistic treatments that led her to become firstly a Reiki Practitioner, then a Reflexologist, and further down the line a Pilates and Yoga teacher.
These explorations & studies brought her personal growth to the next level, and sparkled the desire within her to share this passion with other people. Fascinated by the clarity and lightness of Pilates as a practice, which helped her discover the strength and potential in her body, she cultivated a deep appreciation for mindful movement and eagerly began her teacher training through STOTT Pilates in London, followed by a Pre-Post Natal qualification and her 200 Hours Yoga Teacher Training. Veronica aims to spread the wealth of knowledge that Pilates & other mindful practices can offer in an upbeat and personal atmosphere, and help her students be more present & conscious of the powerful connection between body and mind, not just during the practice, but also during their daily life. Warmly welcoming people from all walks of life, at all stages of their journey, her classes are focused on hands on assisting, adjustment, conscious breathing and attention to details. She strongly believes that this versatile practice can transform any aspect of our life, as it has done so for her own.
+ Show More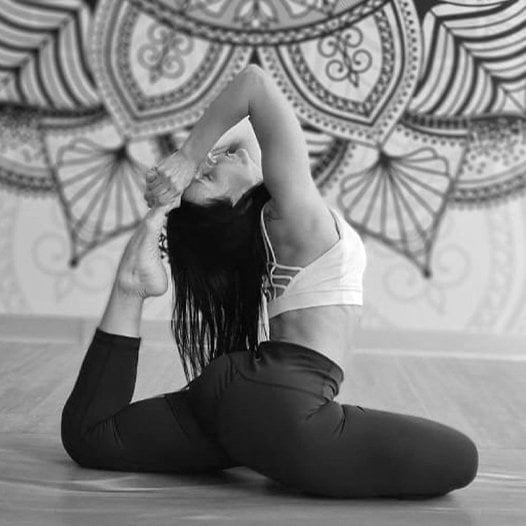 Date: Apr 5th - 14th, 2024
Shared Double Room With En-Suite Bathroom
Shri Kalyanika Ashram's quarters are situated in a tranquil, secluded location within the venue, offering a breathtaking view of the surrounding jungle and the Himalayan Mountain Tops when the skies are clear.
The guests wake up by the sounds of the early morning temple bells - where the Arti is performed- and the songs of the endless bird species inhabiting the region.
All rooms have windows allowing ample natural light & fresh mountain breeze to come in. Each room is fully furnished and has two wide, comfortable beds separated by a large nightstand. All quarters have en-suite bathroom with hot water at all times.
+ Show More
Private Room With En-Suite Bathroom
There is a limited number of rooms with ensuite bathrooms that can be booked for one person.
Shri Kalyanika Ashram's quarters are situated in a tranquil, secluded location within the venue, offering a breathtaking view of the surrounding jungle and the Himalayan Mountain Tops when the skies are clear.
The guests wake up by the sounds of the early morning temple bells - where the Arti is performed- and the songs of the endless bird species inhabiting the region.
All rooms have windows allowing ample natural light & fresh mountain breeze to come in. All quarters have en-suite bathrooms with hot water at all times.
+ Show More
Since the beginning of times, the Himalayas are known as the cradle of Vedic and Yogic civilizations.
The aura of the Himalayan peaks and their wild yet peaceful natural beauty, reflected in their grandeur and mysticism, enthralled and intrigued the yogis, mystics, Tapaswis, scholars, and ascetics from distinct traditions and schools.
Great exponents like Shri Chandracharya of the Udasin Lineage, Shankaracharya of the Advaita Vedanta, Gautama the Buddha, Mahavatar Baba of Kriya Yoga, and many others walked the same path and sought refuge in the mighty yet subtle, stubborn yet transformational, rough yet compassionate embrace of the benevolent Himalayas.
This wisdom pertaining to Yoga cultivated and developed in this part of the world, and apart from just laying a strong foundation for its own lineage, it also ensured that the practice of Yoga and spirituality could survive the onslaught of time and remains as inclusive as it was envisioned and taught by the yogis of the antiquity.
Shri Kalyanika Himalaya Devasthanam (also known as Dol) is situated in a stunning, pristine area of the Himalayas region in the Uttarakhand State of Northern India. Surrounded by untouched forests of unparalleled beauty, Dol Ashram enjoys the blessings of Mother Nature at its best and offers a gorgeous canvas for spiritual immersion, self-exploration & body-mind-soul alignment.
The Ashram, a beacon of the Sanatana Tradition & Vedic lifestyle, was built by Kalyan Das Babaji with the goal to educate and uplift the spiritual lives of people enabling thus the restoration of life balance and unleashing the potential of our human form.
As per the Sanatana Tradition, a human being is the architect of the circumstances he/she creates, and hence by being aware of this truth he/she can create a life of fulfillment, by rediscovering the miracle that each person has the potential to tap into.
The Ashram welcomes every spiritual seeker with a warm heart & open arms. The center along with its cluster of twenty-one in-built temples demonstrates architectural excellence in the form of the shrine dedicated to Shri Vidya, believed to bring peace and prosperity.
A group of five temples, the temples of Lord Ganpati, Shiva, Vishnu, Hanuman, and Mother Goddess Bhagvati are built within the area of Shri Kalyanika Ashram, reverberating its magical aura. Apart from their captivating beauty, the temples are a central feature in creating a divine ambiance with their daily chants, incenses and rituals amplifying the energies for yogic, meditative, and overall spiritual practices.
The heart and soul of the Ashram beat with its in-house Gurukulam (The word gurukula is a combination of the Sanskrit words guru ('teacher' or 'master') and kula ('family' or 'home'). The term is also used today to refer to residential monasteries or schools). Established in the year 2006, Shri Kalyanika Veda Vedanga Sanskrit Vidya Peetham is the first Gurukulam of its kind where Vedic and Yogic vocation is passed on to the students along with subjects such as IT and English.
The aim is to provide education to underprivileged youth in remote areas and empower the tribes of the region through the gift of knowledge. This is only one aspect of the massive humanitarian work that the Ashram engages in to elevate education & nourish human potential.
The demeanor of the students, their beautiful daily routine, the echo of their chants early morning from the Aarti (ritual), and the sound of the bells from the temples nourish the senses and mesmerize anyone who partakes in this experience.
+ Show More
Eclipse Wellbeing Hub & School
Eclipse is a Holistic Wellbeing Hub & Accredited Yoga School, whose core purpose is to inspire us to explore the path to accessing our thriving nature and celebrate our unique personality, using as avenue a fusion of ancient and modern body-mind practices set to ignite a powerful mind, body, and soul alignment.
Eclipse sets authenticity, quality & passion at the core of its offerings. Those qualities transcend all its pillars which include Body and Mind Practices, RYS Master Courses & Teacher Trainings, Immersion Retreats & Ayurveda Treatments.
Eclipse conducts group & private classes of all styles of Yoga (Aerial, Iyengar, Flow- Based Practices, Alignment Practices, Conscious Breathing techniques and more); Pilates, Barre Dance, Mobility & Animal Flow in its one-of-a-kind space by the stunning Waterfront in Dubai Marina Walk, United Arab Emirates.
Eclipse is a leading institute in Meditation (Vipassana, Kundalini), Mindfulness & Relaxation practices as well as Corporate Wellness Programs.
With its spiritual roots hailing from the Shri Kalyanika Ashram in the Himalayas, Eclipse stands as a beacon of genuineness and inspiration toward personal growth and human empowerment. With its profound belief that we are all by design gifted and full of inner potential, the real quest is how to rediscover our miracles by nurturing the aspects of our existence - body & mind - with equal zeal; and begin from that space onwards experiencing the exciting journey of life in an intentional manner.
The unique combination of body & mind practices is designed to have as a common denominator mindfulness and internalization; we have hence crafted a world of choices in which we invite each of our practitioners to experiment, explore & create their own journey according to what suits them best.
Eclipse's Teachers are true to the tradition, embrace originality in their classes and are expert ambassadors in their fields. Their love & profound understanding for the practice reflects in their own way of life and they "walk the talk" in every sense, acting as beacons of the values & treasures of the yogic wisdom. Eclipse's Team takes time to support all practitioners with care while sharing valuable knowledge during their sessions with the students.
Eclipse is passionate about soulful connection. It is a community hub that welcomes both men and women of all ages and backgrounds and encourages everyone to share energy, ideas, experiences & learn together.
Eclipse's location at Dubai Marina's gorgeous Waterfront offers an idyllic set up for all students to experience the stunning energy of grounding & centeredness next to the water and amplify their feeling of peace, balance, and connection.
Eclipse's mission is to inspire humanity to fall in love with the journey of life & invites everyone to join its vibrant community!
+ Show More
What's Included In This Package
9 nights accommodation

3 daily delicious and nutritious meals

Daily yoga classes

Daily meditation classes

Daily pranayama classes

Nature hikes with a trusted guide

Group excursions/activities

Two Ayurvedic Treatments

Immersion in the way of life at an Ashram

Airport pick-up and drop-off

Bhakti (Traditional Rituals)

Transportation during the retreat

Wifi connection
What's Not Included In This Package
Travel insurance

Flights costs

Visa fee

Additional treatments and massages (prices vary)
June is a beautiful, sunny and dry month in the area, with clear blue skies and plenty of sunshine. The temperature is pleasant and ideal for outdoor practice and activities.
The average minimum temperature (usually the minimum temperature is felt during the night) in Almora during June is 13.5°C (56.3°F). The average maximum daytime temperature lies around 29.0°C (84.2°F).
June is a dry month with an average of 21mm (0.8in) rain. It only rains for an average of 2 days total during that month.
+ Show More
This month is known as a warm month. The average maximum daytime temperature in Almora in June lies at 29.0°C (84.2°F). Usually it is the warmest month of the year. The average minimum temperature goes down to around 19.5°C (67.1°F) (often the minimum temperature is noted at night).
June is part of the rainy season with an average precipitation of 176mm (6.9 inches). There are generally around 12 rainy days.
https://www.power-plugs-sockets.com/india/
The Ashram is a place of worship and spirituality; it encompasses 21 temples, where rituals take place on a daily basis. There is also a Gurukulam (residential school) in the same area. As such, we request all students to be respectful of the local culture, temple rituals and the wider etiquette followed in the tradition.
Participants are requested to exhibit a peaceful demeanor, respect the Ashrams' rules and timings, wear modest clothing and refrain from causing any disruption to the way of life of the monks and the school students.
It is important to note that eating meat, as well as the consumption of alcohol, or the use of any other substances is prohibited in this venue.
+ Show More
For requirements regarding tourist visa please research below links:
https://indianvisaonline.gov.in/
https://visa-to-india.com/
https://www.india-easytourism.com/
Sets of Yoga Clothing: please ensure you bring comfortable clothing for the Training Programme (for asana & meditation practices); note that only bra-type tops without a shirt on are not allowed at the Ashram. Leggings for yoga are acceptable.
Layers, Loose & Lightweight: Days can be warm & pleasant, but the evenings can be on the chilly side. Please ensure you bring warm sweaters & a jacket (just in case). A raincoat is always a good idea.
Laundry service is available at a small charge; it is recommended to plan your clothing accordingly for all the days
Comfortable sport shoes: Your best friend for the local excursions
Flip flops/casual flat sandals: Always come in handy as in most Ashram areas shoes are not allowed.
Modest clothing for both men and women: For temple visits and rituals; that includes loose trousers, long loose dresses, and long sleeve blouses or Dhotis (for women) and Lungi (for men).
Shawl/Pashmina: for Meditation practices and to use as a hair cover when in temples (for women)
Protective wear: sunglasses, sunscreen, sunhat
Yoga Mat: Please bring your own mat
Personal Toiletries: Hand Soap, Shower Gel, Shampoo, Toothbrush, and Toothpaste. All necessary toiletries for the daily routine should be considered.
Towels: Hand towels and bath towels
Water Bottle for filtered water: Ensure your water is filtered and always on hand
Hairdryer: It is not available at the Ashram
Insect repellent: There is nothing that will hurt you, but it is just not worth the itchiness!
Sanitizers and Alcohol solution
​Other Details:

The Ashram provides bedsheets and blankets
Please communicate any food allergy in advance
Please communicate if you have any medical condition that the organization needs to know of
Kindly note that the Ashram is in a remote area, away from commercial activity and shopping areas. You are encouraged make a provision for anything that is necessary for your daily routine (e.g. Food supplements, medicines, contact lenses etc.) in advance
Please carry some local currency (INR) with you – max 200 USD should be enough
+ Show More
Additional info about the retreat
Kindly note that with your participation in this Teacher Training Course you are supporting the Ashram's humanitarian work, including its Gurukulam.
Should you wish to bring along some small gift(s) for the schoolboys of the Gurukulam, you are most welcome to do so. Candies, chocolates, and egg-free sweets are always received with enthusiasm!
How to get there (flights, airport transfers, buses, trains)
There is one daily domestic flight from Indira Gandhi International Airport (DEL) in New Delhi to Pantnagar airport (PGH).
Students should book this domestic flight on 23.06.2024 in order to arrive timely for the start of the program. After they arrived at Pantnagar Airport, participants will be picked up and transferred to Shri Kalyanika Ashram. The travel time between Pantnagar Airport and the Ashram is approximately 6 Hours by car (113 km).
There is no flexibility concerning the airport transfer from Pantnagar Airport to the Ashram and vice versa. The participants will be transferred by vehicle once to and from the retreat location, on the dates and times mentioned below:
Please book these flights:
From Indira Gandhi International Airport (DEL) to Patnagar Airport (PGH):
Travel Date: June 23, 2023
Day: Friday
Air Carrier: Indigo
Itinerary: DEL-PGH
Flight No: 6E7324
Departure Time: 10.55 AM
Arrival Time: 11:55 AM

From Patnagar Airport (PGH) to Indira Gandhi International Airport (DEL)
Travel Date: July 02, 2023
Day: Sunday
Air Carrier: Indigo
Itinerary: PGH-DEL
Flight No: 6E7157
Departure Time: 15:00 PM
Arrival Time: 16:10 PM

All participants need to plan their arrival at Indira Gandhi International Airport from their international departure points in such a way that they will be able to board Indigo's domestic flight on June 23, 2023, at 10.55 am. There might be a requirement to change the terminal, so please make sure you have enough time between your international flights' arrival and the departure time of Indigo Flight No: 6E7324 on June 23, 2023, at 10.55 am.
The same precautions should be taken on the return date of July 2nd, 2023.
+ Show More
Watch highlights from our March 2023 Retreat
Date: Apr 5th - 14th, 2024