200-Hour Multi Style Hatha & Vinyasa MASTER COURSE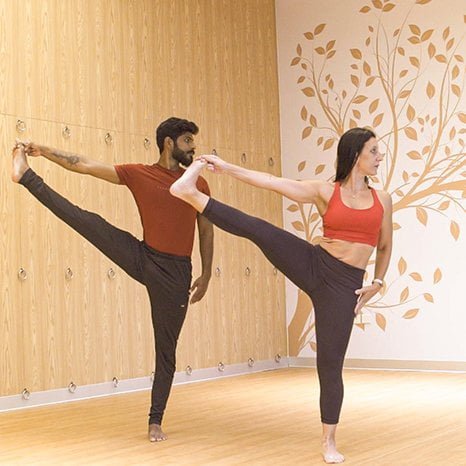 Description
At Eclipse all our practices, courses and intentions are focused on the promise of celebrating and unveiling the human potential at its highest level and nurturing inspiration to fall in love with the journey of life.
Rooted into the soil of truth and authenticity, Eclipse in its capacity as a Yoga School, is committed to delivering the best-in-class Yoga experience to all associates and ignite the spark to propagate the treasures of yogic wisdom with loyalty and respect to the tradition.
We firmly believe that knowledge of Yoga grows steadily through sharing and through a positive and constant conversation and exchange between the teacher and student, between the guru and the seeker. Hence this principle is nested at the core of our 200-Hour Mixed Style (Hatha & Vinyasa) Yoga Teacher Training Course; Eclipse as a Yoga School balances the optimum blend of discipline and structure that such a course mandates with the time-tested methodology of empirical exchange and the art of attracting a true seeker to the right guru, orientation, and environment.
The objective of the 200-Hour Mixed Style (Hatha & Vinyasa) Teacher Training Course is to provide a solid foundation to every student at every level of their learning path and every step of their journey as a practitioner and teacher. This is not just another "course" but a life wire of positive transformation that keeps the flow of knowledge intact to address the ever-increasing demands in the authentic way of Yoga teaching.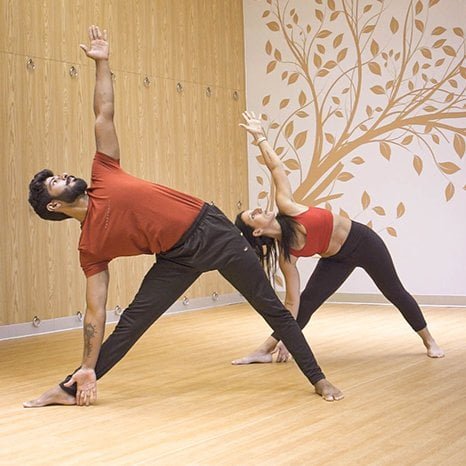 Initiation: the core concept for beginning the journey as a Yoga student & teacher.
Upanishad: Opening the realm of inner wisdom with the master.
Communion: to harmonize and channelize the collective creative energy of the teacher and the student.
Transformation: transformational journey from practitioner to student and from a student to a teacher.
Hatha Vijnana: Two-fold energy harmonization.
Vinyasa Prayoga: Experimentations on the breath initiated and breath-based flows and integration of various movements, postures and poses.
Hatha-Vinyasa: Integration of dynamic and static aspects of Yoga.
Upanishad: Opening the realm of inner wisdom with the Master.
Yoga: Union with the immutable, eternal Self.
Pratyahara: Demystifying and enabling the channels of the senses.
Dharana: Prolonged awareness and concentration to unveil the positive dynamism within.
Dhyana: state of prolonged awareness.
Yoga Nidra: Immersion and psychic sleep activation.
Naada & Anusandhana: Process of tracing the psychic and vital keys and Mantra Sadhana.
Kundalini: Arousal of the primal vital force.
Vipassana – Invoking insight.
Spandana – The concept of divine pulsation.
Citta and mental modifications; Four mental processes.
Asana Shuddhi and the concept of Atma-Samyama (self-control and steadfastness).
Asanas: postures based on Hatha & Vinyasa systems
Pranayama: yogic breath-work.
Meditation: based on the threefold system of dharana, dhyana and samadhi.
Philosophy: Yoga and Samkhya systems.
Yoga psychology: psychic aspects, mind and its modifications mentioned in Raja Yoga.
Shatkarma: body cleansing- mala nivritti and purification.
Anatomy and physiology: conceptual, theoretical and practical knowledge of the human anatomy and physiological systems.
Teaching methodology: methods and techniques for demonstrating and imparting acquired knowledge of Yoga.
Profound and deep understanding of the various techniques and methods of meditation.
Detailed knowledge of theoretical and practical aspects of meditation.
Ability to design and conduct meditation sessions based on various methods.
Ability to communicate and disseminate knowledge, with regards to the importance of meditation, i.e. stress management, mental and physical wellbeing.
Ability to meditate thoroughly to achieve mental clarity and profundity.
Mindfulness and heightened awareness.
1. Hatha Yoga Asanas
Pawanmuktasana Series (1,2,3)
Surya Namaskar
Chandra Namaskar
Vajrasana Group
Meditation Group
Standing Group
Sitting Group
Balancing Group
Backbends
Forward bends
Inverted Pose
Counter pose
Alignments of Asanas
2. Pranayama
Four aspects of pranayama
Natural breathing
Abdominal Breathing
Thoracic breathing
Clavicular Breathing
Yogic breathing
Nadi Shodan Pranayama
Bhramari Pranayama
Ujjayi Pranayama
Bhastriska Pranayama
Kapalbhati Pranayama
Sheetali Pranayama
3. Mudras
Chin Mudra (psychic gesture of consciousness)
Shambhavi Mudra (eyebrow centre gazing)
Nasikagra Drishti (nose tip gazing)
Shanmukhi Mudra (closing the seven gates)
Bhairava Mudra (fierce or terrifying attitude)
Jnana Mudra (psychic gesture of knowledge) Assume a comfortable meditation posture
4. Bandhas
Jalandhara Bandha (throat lock)
Moola Bandha (perineum contraction)
Uddiyana Bandha (abdominal contraction)
Maha Bandha (the great lock)
5. Shatkarma
Neti (nasal cleansing with water)
Kunjal Kriya or Vaman Dhauti (regurgitative cleansing)
Nauli (abdominal massaging)
Kapaibhati (frontal brain cleansing)
Trataka (concentrated gazing)
6. Philosophy
Introduction to Yoga
Major Patanjali Yoga Sutras
About Hatha Yoga
Yogic lifestyle and diet
8 Limbs of Yoga
7 stages of Awareness (Maya, Prakriti, Brahman
Atman, Pram Ataman, Avidya, Ahamkara, Jiva)
The 3 Gunas
Principles of Yoga
Introduction of Chakras
About the Koshas
About the Mudras
7. Anatomy
About Anatomy and physiology
Anatomical Position, Planes, Movement
Skeletal System
The Joints
Muscular System
Respiratory System
Heart Anatomy
Knee Anatomy
About the Spine
Asanas related to health problems [Sciatica, Slip disc, Cervical spondylosis, Varicose veins, Herniated
disc, Knee pain, Back pain, Frozen shoulder, Obesity, Thyroid (Hypo & Hyper)
8. Teaching Methodology
How to design and sequence a complete class.
Creating sacred space, psychological safety, and a context for learning.
How to teach postures, pranayama, relaxation, and meditation.
Fostering body awareness.
Ways to take students beyond the postures into a deeper knowledge of themselves.
9. Vinyasa Flow Fundamentals
Introduction and meaning of Vinyasa
Benefits of the practice
Change in postures from one to the other
Connection of postures and breath
Going in and out of a posture
Posture modifications/variations
10. Use and importance of breath
Breathing in flow
Ujjayi breathing: Meaning and practice
11. Jumps
Standing Jumps
Jump back
Jump Front
One leg back jump
Sitting Jumps
Jump through
Jump back
Jump to postures
Importance of shoulder mobility
Importance of hip opening
Forward Bend
Use of core
Arm Strength
12. Relation of Vinyasa with Ashtanga Yoga
Awareness to breath, Bandhas and Drishti
13. Freedom of Modifications for the Flows
14. Flows
Free flow
Standing Flow
Sitting Flow
Hip Opening Flow
Advance Flow
Practice of Inversion in Vinyasa flow
15. Teaching Methodology
Alignment of basic postures
Adjustment in postures
Warm up sequences of Vinyasa flow
Learning to make Vinyasa Flow Modifications for beginners as well as Injuries
International Yoga Alliance Accredited 200 Hours Multi Style Hatha & Vinyasa Certification
International Yoga Alliance Accredited 100 Hours Hatha Yoga YACEP Certification (applicable to participants who attend course Component 1 only)
International Yoga Alliance Accredited 50 Hours Vinyasa Flow YACEP Certification (applicable to participants who attend course Component 2 only)
International Yoga Alliance Accredited 50 Hours Meditation YACEP Certification (applicable to participants who attend course Component 2 only)
Privileged pricing on Eclipse Retreats, Courses & Workshops
In depth Teacher Training Course Content & Bibliography/References (Pre & Post Proposed Read Material)
Internship with Eclipse & continuous empirical guidance upon request
The course takes place for 8 hours during the weekdays (Mon -Fri)
Course starts at 8 am up until 4 pm (including break time)
The course inauguration will take place the first day
Final Exam takes place before awarding the RYS Certificate, on the day of the course completion
Exam is a blend of practical, multiple-choice questions & written answers in the form of short essay
Exam duration is 1 – 2 hours
Kindly make your own breakfast & lunch arrangements
Participants are advised to bring their own water bottle, yoga mats & towel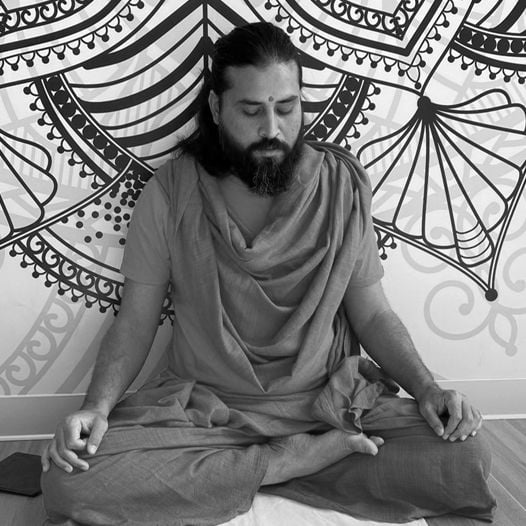 SWAMI VISHWESHWARANAND: Yoga Philosophy & Meditation Lead
ECLIPSE HEAD OF INSIGHT: MINDFULNESS, MEDITATION, EASTERN WISDOM & SPIRITUALITY
As the Head of Insight at Eclipse, Swami Vishweshwaranand is in charge of conducting all mindfulness & meditation practices. He is an expert in the ancient wisdom of Yoga & the Eastern Traditions & their translation into modern life practices.
Born in a Brahmin family of scholars, Swami Vishweshwaranand left his home at the young age of 7 years & started his spiritual journey under the benign guidance of Param Tapaswi Baba Shri Kalyan Das Ji of Amarkantak. On the banks of Narmada he received divine Diksha of Shri Krishna & got the esoteric Vidya of Vedas & Gita in a mystic manner.
He traversed most of India with his master at a very young age & got versed into various Indian Vedic scriptures. At the age of 10 he was sent to Nainital for his elementary education & later on received his university education from Pune & Varanasi. Due to his deep understanding of life & dedication, the epithet yogi was bestowed upon him in his early days & he then started teaching Dhyan Praveshika-entrance into meditative state, a technique based on the Pranava Naad Sadhna of Udasin tradition.
He was also fascinated by the mystical aspects of philosophy & therefore was trained under the mystic Kashmir Shaivite Pt. Kamlakar Mishra of Varanasi. As a result, Swami Vishweshwaranand started teaching at Shri Kalyanika Himalaya Devasthanam & has been a key leader in various institutions of the Matha, nestled in the Himalayas.
Known as a natural scholar, the Swami has edited various journals & books; he has played a vital role in structuring ancient texts. He is passionate about seeing people connect with their true self & is driven to put all his energy to support others into thriving in their life's journey.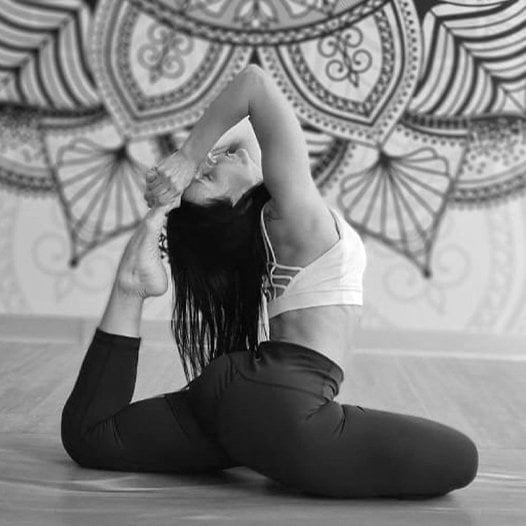 VERONICA: Yoga Asanas, Transitions, Shatkarma, Anatomy & Teaching Methodology
Veronica, a traveler by nature, was born in Italy, lived in the UK, and landed to Dubai a year ago. Being a dancer since her childhood years, she fell in love with dynamic movement early on in life. She continued her practice alongside her academics in Communication Science & International Relations in Milan. Progressively Veronica developed a profound interest in spiritual matters & holistic treatments that led her to become firstly a Reiki Practitioner, then a Reflexologist, and further down the line a Pilates and Yoga teacher. These explorations & studies brought her personal growth to the next level, and sparkled the desire within her to share this passion with other people. Fascinated by the clarity and lightness of Pilates as a practice, which helped her discover the strength and potential in her body, she cultivated a deep appreciation for mindful movement and eagerly began her teacher training through STOTT Pilates in London, followed by a Pre – Post Natal qualification and her 200 Hours Yoga Teacher Training. Veronica aims to spread the wealth of knowledge that Pilates & other mindful practices can offer in an upbeat and personal atmosphere, and help her students be more present & conscious of the powerful connection between body and mind, not just during the practice, but also during their daily life. Warmly welcoming people from all walks of life, at all stages of their journey, her classes are focused on hands on assisting, adjustment, conscious breathing and attention to details. She strongly believes that this versatile practice can transform any aspect of our life, as it has done so for her own.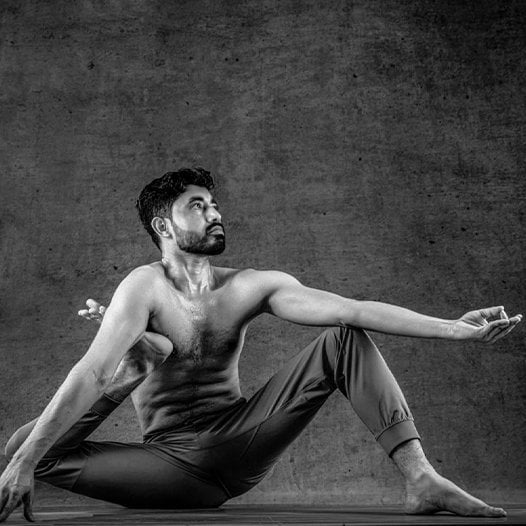 SUBHENDU: Yoga Asanas, Transitions, Shatkarma, Anatomy & Teaching Methodology
Subhendu comes from West Bengal, India & has been a practitioner of Yoga since his early childhood. Immersed into the practice, he was clear from the beginning that his purpose is to dedicate his life to Yoga & spread its message.
He started his academic education by earning his Bachelor's degree in Physical Education from Kalyani University and West Bengal, India & continued his yogic studies with a two- year Master's degree in Yoga from Himalyan Garwal University, Uttarakhand, India; a forever student by philosophy, he currently pursues his PhD in Yoga from same University.
In the meantime he kept on enhancing his qualifications and practice & teach ceaselessly; He earned his Diploma in Yoga from Bihar school of Yoga under the guidance of Great Guru Swami Niranjanananda & gained his RYS 200 Hours Teacher Training Course from Sri School of Yoga, Bangalore, Karnataka, under Guru ji Sri Sri Ravi Shankar, 300 Hours from Rishikesh Yoga Prakash, Uttarakhand & he is a 500 Hours Registered Yoga Teacher from World Yoga Organisation.
A Multi-Style yoga teacher with an experience of 12 years, Subhendu has a wide range & depth in his teaching style with a strong flavor of meditative elements. From Hatha Yoga to Vinyasa Flow, Alignment Practices, Prop-Based Classes & Restorative ones Subhendu's sessions are tailored to meet students' needs & help everyone progress in a balanced & focused manner.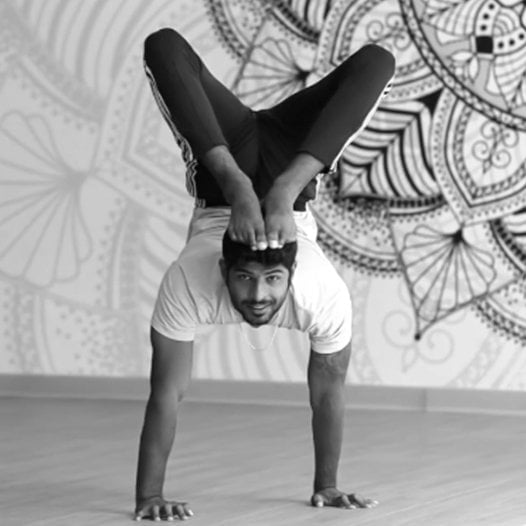 DEVADATTA: Yoga Asanas, Transitions, Alignment, Shatkarma, Anatomy & Teaching Methodology
Devadatta comes from Pune, India & started practicing Yoga when he was only 13 years old under the guidance of Chandrakant Pangare the Captain & Coach of the Indian Yoga Team & 8 times International Yoga Gold Medallist. With his natural inclination to the practice, his love & dedication to the yogic path, Devadatta started participating in yoga conferences & competitions by the time he was 14 years old across India & abroad; along the way he won 55 medals out of which 9 in international Yogasana competitions, in Korea, Argentina & Indonesia. Devadatta pursued his education on Bachelor in Yogashastra & earned his degree from Sant Gadge Baba Amravati University, and formalised his 14-year-old teaching experience with his academic qualifications. Devadatta continued his career in Vietnam, where he delivered classes on all styles of Yoga, with emphasis on intermediate & advanced practices, including classes with special focus on the purposeful use of props. At Eclipse Devadatta reveals the depth of his knowledge & experience across different styles that range from Hatha & Alignment all the way to Advanced Flows & Restorative practices. His passion & experience of yoga in its entirety is reflected in the manner he engages with his students, his attention to detail & his ever-positive energy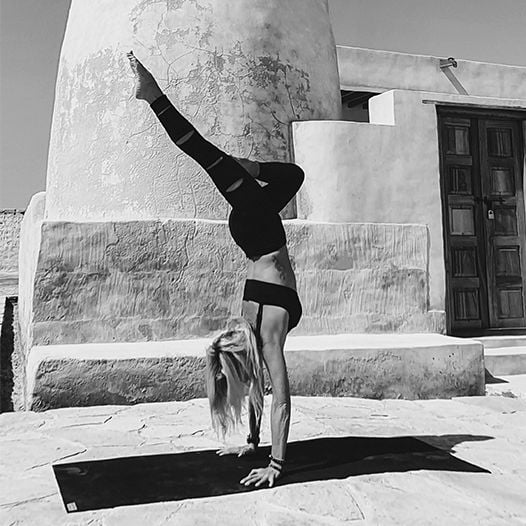 PAOLA: COURSE LEAD & YOGA ALLIANCE SIGNATORY
Paola was born in Italy, where she spent the early years of her life; her inquisitive spirit soon prompted her to leave her birthplace and start travelling in a soul-searching journey around the world. A natural wanderer and world explorer, a lover of nature and healthy life, Paola felt that Asia resonated better with her soul. And so she decided to travel around the continent, visiting many countries and faraway places until she settled down in Thailand, the country which conquered her heart. During her three-year stay there, the passion for holistic matters bloomed and prompted her to study and practice Thai Traditional Massage, Foot Reflexology, Reiki and to move into her first steps as a "SADHAKA" ("spiritually adept"). Yoga was the platform that brought her many times to India, where she earned her RYS 200+100 Yoga Alliance Certifcation specializing in Hatha, Vinyasa, Power, Yin Yoga and Aerial Yoga with more than 2,000 hours of teaching. On top of Yoga, Paola is a gymnastics coach, certified by the Italian Gymnastics Federation, a Pilates Mat teacher (certified by the Federazione Italiana Fitness), and a Swing Yoga instructor (certified by Body Fly International Academy). Paola has been living in Dubai for the past 5 years, where she engages in sharing the power of those disciplines – Gymnastics and Yoga – in diverse institutions including schools. Her love for the practices registers with her students with whom she explores a Holistic approach to practice. Her goal is to help people express themselves through the conscious use of their bodies, and to reconnect with their real souls. Her classes at Eclipse bring different elements from all her skills as a trainer, challenging the students to go beyond their natural and mental limitations, with sequences inspired by gymnastics, which test their abilities in strength, balance, flexibility, and coordination. Suited for intermediate to advanced practitioners, Paola's sessions offer a sense of focus and accomplishment mental & physical, while tantalizing the senses with her choice of sounds and incenses.
HATHA YOGA PRADIPIKA (SHRI SWATMARAMA): There are many commentaries on this book; most inclusive are from Kaivalyadham or Bihar School of Yoga (Yoga publication trust, Munger, Bihar).
GHERANDA SAMHITA (MAHARSHI GHERANDA): There are many commentaries on this book; most inclusive are from Kaivalyadham or Bihar School of Yoga (Yoga publication trust, Munger, Bihar).
PATANJALI YOGA SUTRA: Most prominent editions from Swami Vivekananda, Swami Ramdev, Swami Satchidananda, Geeta press Gorakhpur, etc.
SRIMAD BHAGWAD GITA: Most prominent versions from by Gita Press Gorakhpur, Bal Gangadhar Tilak, Paramhansa Yogananda, Swami Dayananda Saraswati, Swami Rama, Swami Vivekananda, Dr. Sarvapalli Radhakrishnan, Eknath Eshwaran, Mahatma Gandhi, Swami Sivananda, Stephen Mitchell, etc.
THE KEY MUSCLES OF YOGA: SCIENTIFIC KEYS by Ray Long
We are delighted to welcome you on board this fascinating opportunity to learn, exchange & evolve together by immersing ourselves in the vast wisdom of yoga & its treasures.
SIGN UP TO RESERVE YOUR SPOT & KNOW MORE