50 - HOURS VINYASA FLOW MASTER COURSE (RYA)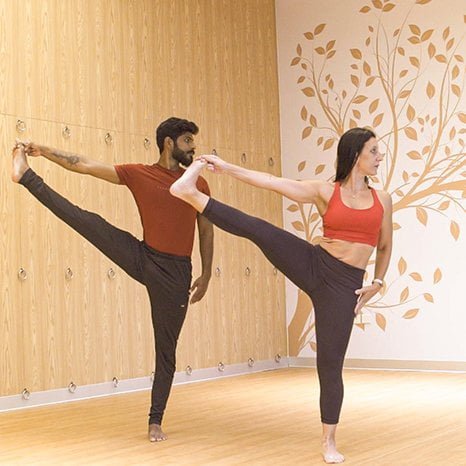 Description
Vinyasa Yoga is a modern style of yoga, born out of the Ashtanga Vinyasa Yoga tradition. The Ashtanga Vinyasa tradition, in turn, is based on the teachings of Sri Krishnamacharya. Krishnamacharya taught that the movements between each asana should be considered just as significant as the postures themselves.
Date
Oct 13th – Oct 20th (6 Days)
Timing
8am – 4pm (8 hours/day)
His idea behind this was to deepen concentration and body consciousness throughout the entire practice. Rather than focusing on "getting into the posture" and then breathing, in Vinyasa Yoga, the aim is to keep the breathing and body consciousness consistent throughout all movements during the practice, hence Vinyasa is a breath initiated sequential posture and movement. The Vinyasa Yoga 100 Hours Course at eclipse is based on through several practices including, Shatkarma, asanas, pranayama, mudra, bandha, linking of poses, flow of Vinyasa Yoga, Breath initiates movement, the variety of variations in flow yoga and counting the breaths in Vinyasa yoga and Ujjayi breathing.

The vinyasa gives rhythm to the practice, keeps the heat building, builds upper body strength, and acts as a counterpoise to stretch the legs and re-set the spine to neutral for the next sequence. Sincere as we are towards our efforts to fulfil our promise to always bring forward the real and most authentic practices deeply anchored in the Yogic heritage and divine messages of the Rishis (sages) of the antiquity, we fuse tradition with modern scientific knowledge to cater to the contemporary demands of the new age human being.

Vinyasa stands in opposition to hatha. Hatha classes tend to focus on one pose at a time with rest in between. In vinyasa yoga, each movement is synchronized to a breath. The breath is given primacy, acting as an anchor as you move from one pose to the next.

In contrast, flow classes string poses together to make a sequence. The sequence may be fixed, as in Ashtanga in which the poses are always done in the same order, but most of the time vinyasa teachers have the discretion to arrange the progression of poses in their own ways.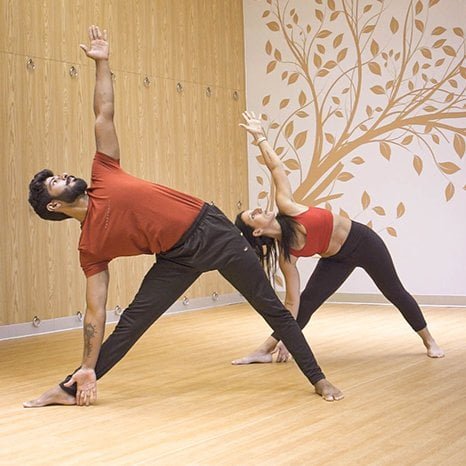 ● Yoga Philosophy, Lifestyle and Ethics
● Introduction to Vinyasa
● History & origin of Vinyasa
● Difference of Vinyasa & Ashtanga
● About Trishtana
● About Drishti
● Explanation of 5 Body sheath,Koshas and Chakras
● Explanation of Shatkarma Kriyas
● Explanation of Sun salutations A and B
● What are the 4 basic steps taking a step to vinyasa ?
● Explanation of main groups and free flow Vinyasa class (seated, standing, twists, floor )
● The Art of Hands-on Adjustments gets deeper
● Vinyasa Yoga Transitions & Key poses
● Smooth transitions
● Importance of Ujjayi breathing
● Art of Sequencing
● Learning of different ways of Jumping
● Importance of shoulder & hip mobility
● Use of core & arm strength
● Alignment of the posture
● Anatomy and Physiology understanding
● In-depth knowledge of the Vinyasa Yoga, History of Vinyasa Yoga
● Profound and deep understanding of the various techniques and methods of Asanas, Pranayama, Drishti, and purification technique.
● Detailed knowledge of theoretical and practical of Vinyasa Yoga.
● Ability to design and conduct sessions based on Vinyasa Yoga.
● Ability to communicate and disseminate knowledge, with regards to the importance of Vinyasa Yoga, i.e., stress management, mental and physical wellbeing.
● Ability to meditate thoroughly to achieve mental clarity and profundity.
● Mindfulness and heightened awareness.
We feel committed to make this world a better place for every soul, as we believe in the strength of Sankalpa – "The Resolve". Hence, we call upon everyone to join hands and meditate in this course with us to:
● Establish a better understanding of the ever-expanding life.
● Restore the state of harmony within the mental psychic and physical framework.
● Inculcate life changing positive values.
● Reshape and realign the work- family- society conundrum.
● Attain self-realization and actualization.
● Enhance inner beauty and internal bliss.
● Trigger self-transformation.
● Learn to unwind and let go
● International Yoga Alliance Accredited RYT – 50 Hours Vinyasa Yoga Course Certification
● Privileged pricing on Eclipse Memberships, Courses & Workshops (10% off)
● Internship with Eclipse & continuous empirical guidance
Regular Price: AED 3,450 (including VAT)
Early Registration (Valid until Sept 30th): AED 3,150 (including VAT)
Sign up now to reserve your spot & know more